Our Story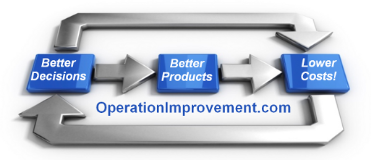 Introduction – Who We Are and What We Do
I'm Ron Parker. My associate, James Abbott, and I are "hands on" business operations consultants specializing in process and project management.
For more than twenty years we have been providing business leadership with actionable metrics, dynamic and adaptive work flows, and guidance in the selection, implementation and operation of IT and telephony technology.
We have applied our "Division Of Labor" management approach to industries as diverse as call centers, manufacturing and service employment & staffing businesses. (http://effectivecallcenters.com/clients-successes/)
Read About Us
Take a look at this letter from a past client at the conclusion of an extended engagement: http://effectivecallcenters.com/files/2015/05/image002.jpg
James and I are both authors of books on Operations Management. We use those books (http://effectivecallcenters.com/resources/books/) to familiarize new clients with our systematic approach to operations improvement and for sustainment training.
My book (http://thirtysevenideas.com/) on tactical management provides an introduction and an overview to process and project management concepts that many may not have encountered in formal training or past self-study.
Special Services & Business Seminars
Over the years, our clients have come to us through public continuing education seminars sponsored by colleges and universities in the United States and well as private classes at Fortune 500 companies. (We have often followed a past client to their next promotion to help "jump start" their next initiative.)
We still provide corporate classroom training options and have a limited number of public sessions offered every year.
Live Training Via Internet
Thanks to online services from companies like Amazon, our classroom training experiences can now be offered to students in distributed remote locations. Live video, audio, two way conversations and traditional slide and media presentations can be offered to associates at their desks and conference rooms.
Availability and Past Clients

We have just completed a year long consulting assignment for a national insurance company based in Providence, Rhode Island, and are open to new engagements. James and I are both local to the Carolinas and so we often travel nationally to work on-site, but we also work remotely when technology permits.
Please read a little about us on the included web links and consider us for present or future help with your business operations. Please share this letter freely with your vendors and associates.
Additional Resources
Through our corporate work, we have additional associates available to join our projects as supporting resources with specific skill sets in interim management, technical project supervision, programming language and platform specialists, telephony and IT infrastructure management, technology selection and evaluation, systems evolution, development and implementation.
Contact Information
For an immediate or future need, drop us a short reply and we can set up a time to talk by phone or via video-conference.
Thank you for your time.
Ron Parker (mail@OperationImprovement.com)
James Abbott (James.Abbott@EffectiveCallCenters.com)