Outstanding Business Operations Metrics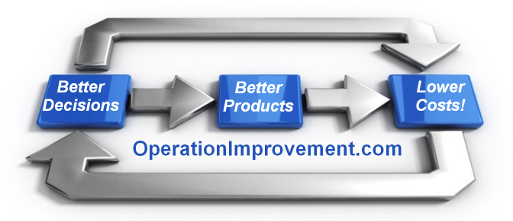 Our Goal: The Virtuous Circle
Conditions in operations are continually changing. Managers must be able to respond real-time to events.
Our approach to metrics is designed to highlight critical events as they happen. Managers make better decisions, and process performance is sustained in spite of change.
Great Metrics:
Pay for themselves by improving decisions at all levels of the organization
Flow automatically from existing business systems.
Offer fresh data each day,or even each hour or minute as necessary.
Are accessible to managers and supervisors real-time – as decisions are being made.
Help everyone understand the current state of the business real-time – as decisions are being made.
Clearly highlight moments of change across time.
Clearly highlight individual cases that are objectively atypical.
Clearly highlight opportunities for improvement, and not just more of the status quo.
Are the essential companion to clearly defined correct processes.
Metrics make consistent processes possible.
If your metrics fall short of these goals, let us help you!
Email: mail@OperationImprovement.com
Posts By Category