Operations Turnaround Management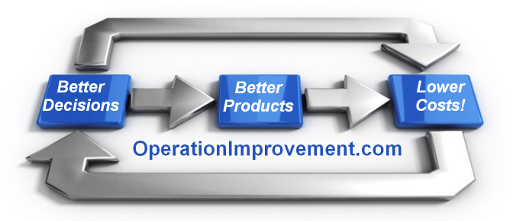 Our Goal: The Virtuous Circle
For a more detailed look at who we are and what we do, click here..
Judith Bardwick warned managers that too much comfort or too much fear destroys motivation and undermines performance. When she first wrote wrote "Danger In The Comfort Zone", resting too comfortably on past achievement was the predominant threat to fresh accomplishment. Today,the culture has turned 180 degrees and fear is the enemy.
Don't let comfort or fear stop you from tackling the organizational, motivational, process and technology problems that are limiting your company's success.
We can help. Call us while the problem is still small, or call us at the 11th hour – but call before it is too late. Let us help you achieve a rapid turnaround.
We evaluate your operation from both a conceptual and a data-driven perspective. We identify missing and malformed business processes, make recommendations and see changes through to a successful implementation.
(Take an closer look at our standards for outstanding business metrics.)
Callback Desk: (800) 961-9682
Email: mail@OperationImprovement.com